Local digital marketing: The scaled approach of regional ads
According to a study by the market research company Forrester, the majority of brands called local digital marketing as an untapped opportunity. Experience in this Articles on what local marketing is all about and how your company can benefit from Local Marketing Automation can benefit.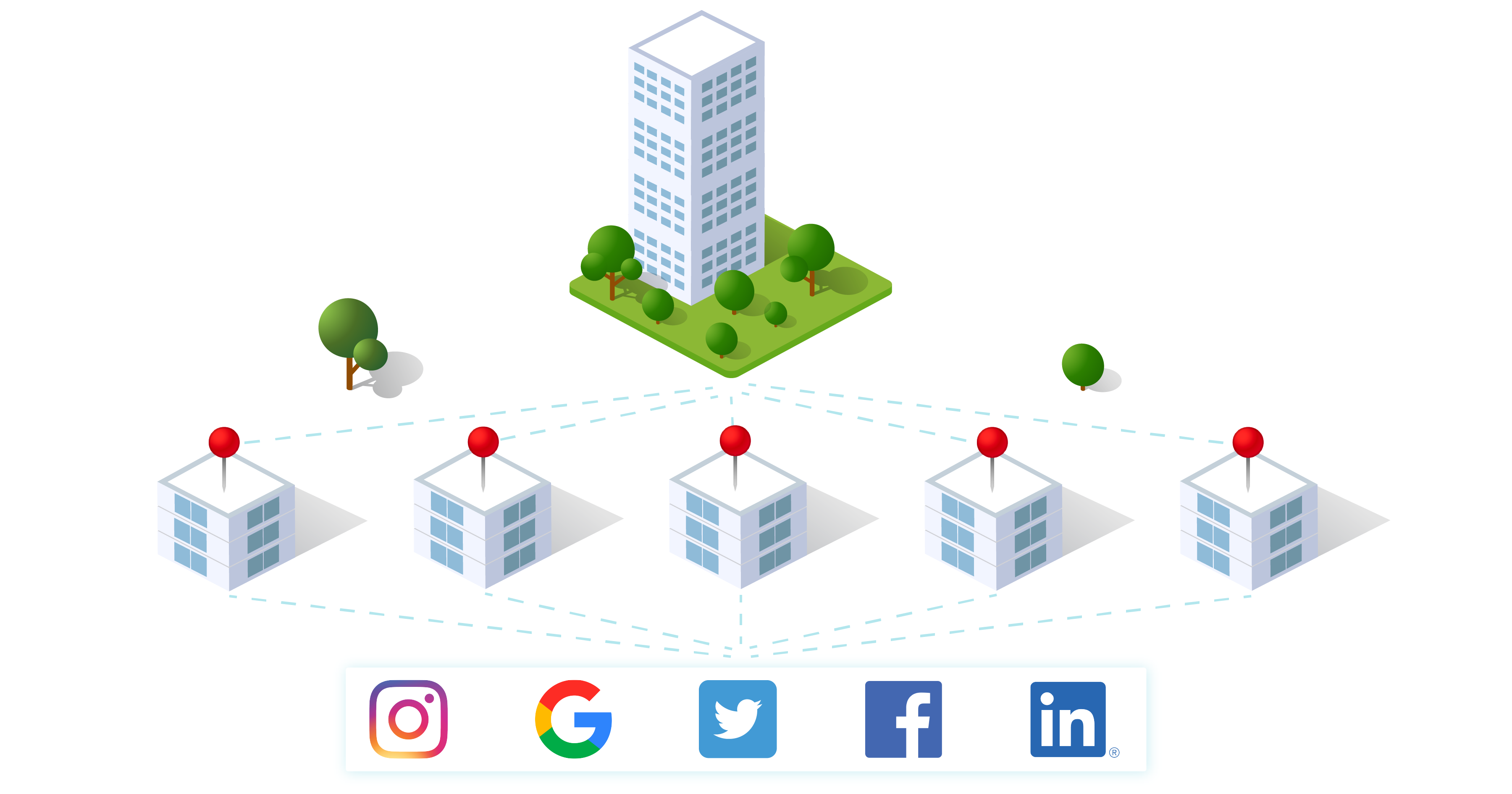 This awaits you:
1. What is local marketing?
Local marketing refers to marketing activities that focus on a smaller geographical area. target region such as a city or region.
2. International, National and local marketing activities
The marketing activities of companies can be placed on different levels. For large companies can carry out activities on an international or global level become. In contrast, national marketing is limited to individual countries. tailored measures were implemented. In comparison, local marketing is limited to within national marketing to an even smaller target region and its local tailored activities.

As an example, the local Marketing Advertising material is created around topics that are relevant in the respective region. This can be regional events, which are supported by the company or Activities around the office in the region. Besides small local companies and retailers, the topic of local marketing is therefore also nationally active companies are important. Despite decentralized and locally adapted activities but the company should ensure that marketing is also carried out on a local level radiates a certain uniformity and company-wide governance policies corresponds.
3. Why local digital marketing?
With local digital marketing, digital marketing activities can be targeted in the following areas are performed, which are particularly relevant for the company. For example, in the region of branches or dealers, digital advertising measures can be used to promote the goal Address people in the catchment area with relevant content and attract their attention do. Local digital marketing is not only suitable for smaller local companies. company, but is especially relevant for larger brands and companies, which are working with decentralized structures are equally dependent on regional visibility.
4. Organization of local digital marketing activities
When using local digital marketing activities, the structure of the efforts an important role. In principle the following approaches are possible:
Centralized
In this model, local marketing activities are planned from headquarters and is performed. The "Top-Down" approach provides local offices or partners with none Additional expenditure for the implementation of the measures. On the other hand, however, the impaired ability to respond to local needs and possibilities in a timely manner react.
Decentralized
In this approach, the strategy and its implementation is communicated to the local businesses or Franchisee delegated. This increases local responsiveness, but it can quickly lead to inconsistencies or lack of coordination with central activities guide.
Hybrid
The hybrid approach requires coordination between the central marketing of the company as well as the local offices or partners. According to the study of the market research company Forrester, this is the most widely used approach. For a efficient handling, however, are instruments for managing and coping between and the branch offices are required. This coordination can be achieved with a corresponding Distributed Marketing Platform are supported.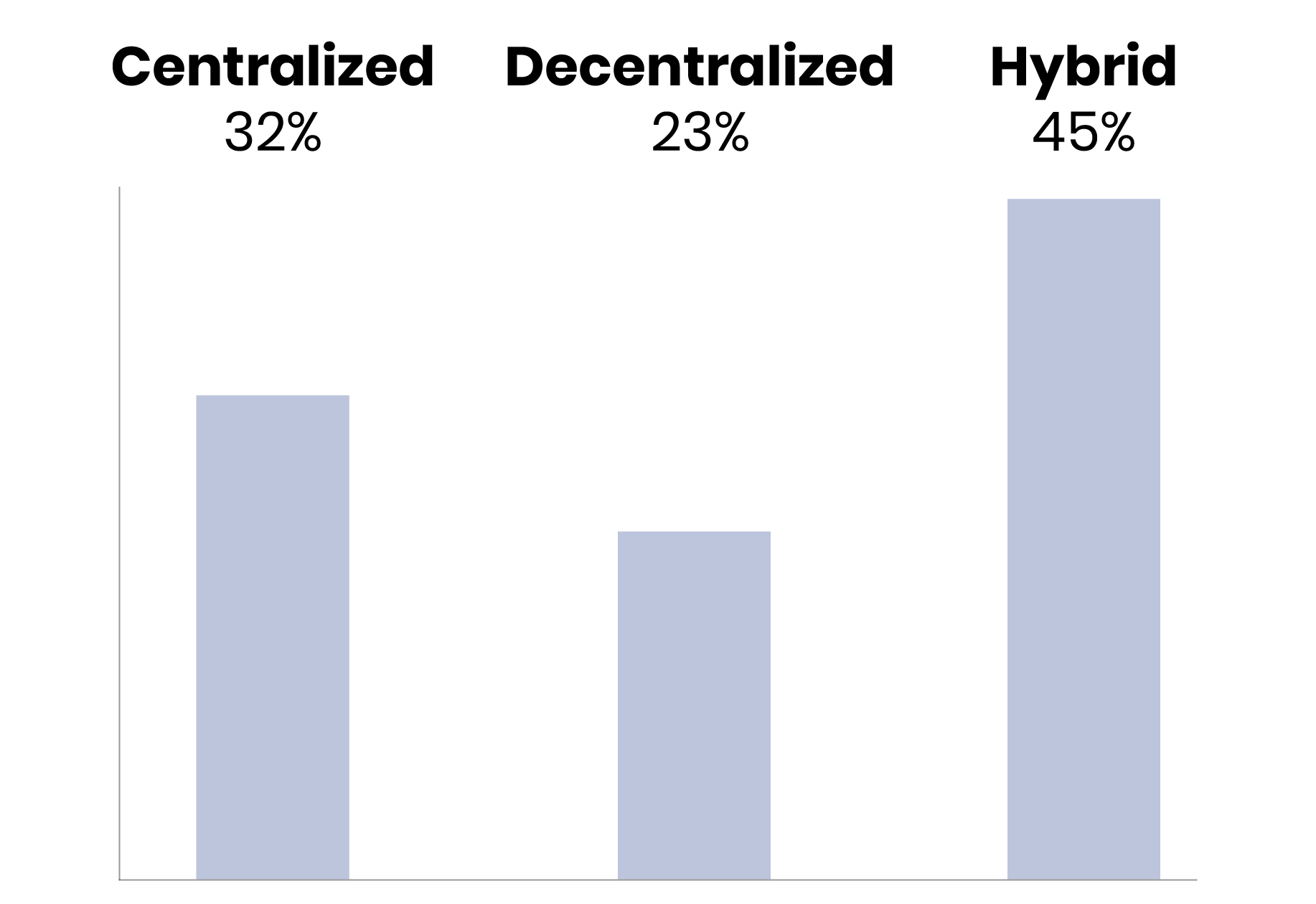 Source: Majority of chains call local-digital marketing an 'untapped opportunity' (searchengineland)
5. Possibilities of local Google Ads
Google searches for local topics such as restaurants, experiences or services we now expect to receive relevant proposals in our area. The number of According to Google, searches in a local context have increased by 150% in recent years. increased. Searches for "Where can I ... buy?" have increased by 85%. In addition compared to previous years, were purchased significantly more frequently from companies that Adapt information to the geographical context of the user. Quelle: Micro-Moments Now (thinkwithgoogle)

These changes are also important for Google search ads. The more relevant the ad in context of the user fails, the better the result. Also in the Google Display area locally adapted ads can help to strengthen the brand in the respective region and support performance goals.
Google search ads
With Google Search Ads, the visibility of the branch or partner can be increased at relevant search queries in his or her target region can be specifically increased. For search announcements in principle requires a target website to be promoted, e.g. a landing page for the branch. Related to the local aspect the following possibilities are for Google search ads of special interest:

Increase visibility for active seekers in the region
With search ads in the target region of the branch or partner, visibility at search for relevant products & services can be increased in a targeted manner.

Strengthen local branding
Through the use of dynamic search ads (DSA) or keywords around the brand can be the branch or partner in the respective region when searching for the brand can be made.

Add location information
With location extensions, information such as addresses or telephone numbers can be stored directly in the Google search ad can be shown. The information is taken from a linked Google MyBusiness account.

Optimize for store visits
With Google Ads, visits to branch offices can be recorded in the form of conversions become. These data can be used to optimize bids for such store visits.
More information: Store visits conversions (Google)


Google Display ads
According to Google, the Google display network reaches about 90% of the Internet users worldwide and includes more than three million websites and apps where ads are placed can be made. Also for display ads, a target website to be advertised is always is required, e.g. a landing page for the branch. For regional ads, special the following possibilities around the Google Display Network are exciting:

Increase regional awareness
Individual regional ads can be used to raise awareness of the brand in the target region of branch or of the partner can be increased.

Remember Website Visit
With Remarketing in the Google display network users can be addressed, who already have have interacted with the website. Thereby, ads are delivered when the user has website or app from the Google display network.

Optimize for store visits
Even ads on the Google display network can be optimized for local store visits.
More information: Store visits conversions (Google)


Google Ads advertising accounts
For the use of local Google Ads campaigns across different branches or partners it is recommended to create a separate Google Ads advertising account for each branch/partner and to bundle these in a management account (MCC). Especially regarding the settings on level "Account", this procedure is recommended. So individual connected Google MyBusiness accounts in the form of location extensions do not get in the way, furthermore means of payment per partner can be stored in the respective accounts for the settlement.
6. Possibilities of local Facebook Ads
With more than 1.8 billion daily active users worldwide (as of October 2020), Facebook a variety of possibilities to support local digital marketing.
Facebook & Instagram Ads
With Facebook & Instagram ads, you can reach specific people and focus on the company's goals. be made attentive. To switch ads, a Facebook page or a Instagram Account requires the context in which the ads appear. Related to the local character can be combined with a corporate facebook page or a corporate Instagram accounts, or individual accounts per branch/partner is inserted.

In terms of the local aspect, Facebook & Instagram Ads offers the following possibilities of special interest:

Increase regional awareness
To increase awareness in the region of the branch or partner, Facebook & Instagram ads can be used, with which persons in the target region be reached with matching interests or demographic information.

Remember Website Visit
With retargeting on Facebook & Instagram, users can be addressed who already have have interacted with the website. In doing so, ads on Facebook and Instagram delivered, if the user has previously visited the website of the visited the company (e.g. within 30 days)

Push organic posts
Depending on the corporate structure or local marketing objectives, it makes sense for each branch to resp. each partner has its own appearance on the social media channels and also with its own organic contents. The resulting organic contributions can be Presents ads via Facebook & Instagram to a wider target audience in the region in order to increase the reach of the contributions.

Optimize for store visits
With the "Store Traffic" advertising target on Facebook Ads, people near branches can be reached and encouraged to visit the local store.
More information: Promote Local Business (Facebook)


Facebook Advertising accounts
Via Facebook Business Manager the advertising accounts of the branches/partners can be be managed. On the one hand it can be managed with an advertising account and thus with a central means of payment for all branches/partners. For greater flexibility and Transparency of ongoing activities is also recommended for Facebook Ads with own advertising accounts per branch/partner. For example, you can also directly means of payment of the branches/partners can be stored in the respective account.
7. Billing of advertising costs
There are basically two possibilities to settle the advertising costs. On the on one side, the costs can be settled centrally, e.g. with a means of payment of Central, which is used for all advertising accounts of local parties. The head office can, if necessary, further reduce the costs 100% or partially according to the charge. This makes flexible models with corresponding cost sharing possible. These models are also called Co-Op Advertising. The term is described in more detail in the entrepreneur.com encyclopedia.

On the other hand, the billing of the advertising costs can be completely handed over to the partners become. This is achieved with own advertising accounts per partner, in which a means of payment of the partner is stored. This model simplifies the administration in the head office and provides Transparency regarding the separation of advertising costs and possible license costs, for example for franchise partners.
8. What is Local Marketing Automation?
Local Marketing Automation automates parts of local marketing workflows and processes. Gartner describes Local Marketing Automation as follows: "Campaign Management Solutions That Support Distributed Marketing Campaigns". An LMA Software or also Distributed Marketing Platform supports the coordination between the national marketing teams and their local offices or partners Distributed marketing platforms must help brands to Support key activities for local marketing, including:
Allow local offices to place their own ads for your region at Use of templates.
Enabling local offices to link local embassies with the national Coordinate branding.
Enable brands to efficiently organize advertising materials and related assets and to make it available to the offices.
Local Marketing Automation connects the local office with the central marketing and the marketing channels used. Through this process support, processes can be can be simplified and made more efficient in a targeted manner.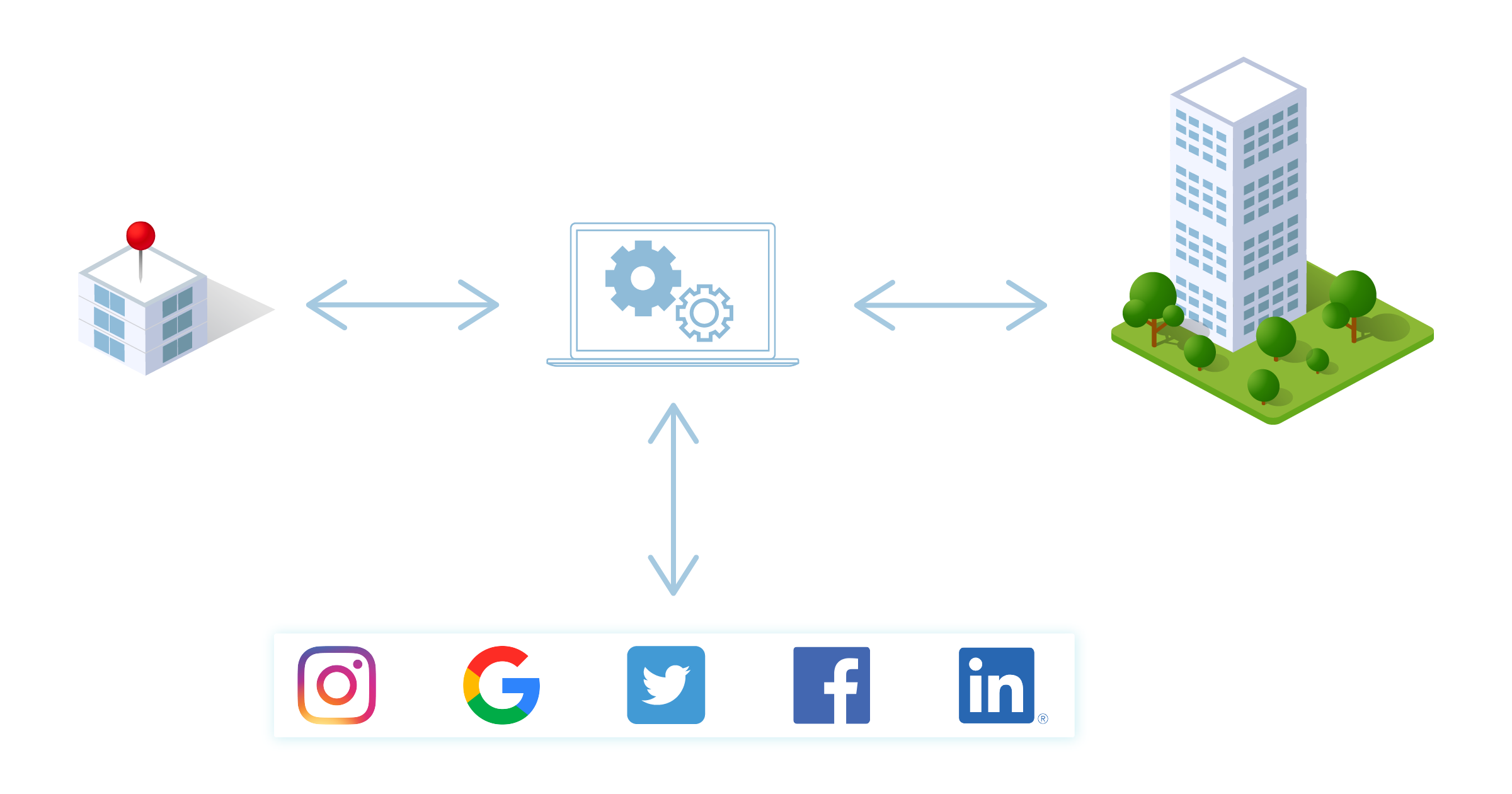 9. Who benefits from Local Marketing Automation?
Brands and their partners both benefit from the implementation of local marketing Automation. It helps to bridge the gap between the marketing activities of a brand and individual needs of their local partners.

Brands benefit from Local Marketing Automation because they can offer their local partners compliant marketing materials and the costs of the be able to organize marketing activities flexibly in the form of cost sharing.

Local offices or partners benefit from Local Marketing Automation because they conduct marketing activities that are slightly brand-compliant at partially subsidized costs can. The local partners often have too little time or resources for professional planned and executed marketing. Local Marketing Automation solves this problem, by providing partners with simple, scalable and cost-effective marketing solutions can be set. Via Local Marketing Automation Platform, for example, in the area of Advertising templates for target audiences and advertising material can be provided. This are coordinated with current national campaigns and can be used for increased regional relevance can be adapted by the partner to the local market.
10. What next?
If local digital marketing approaches are of interest to your company we will be happy to answer your questions. Are you interested in the concrete use of adhook as Local Marketing Automation Platform? In an individual demo we show you the possibilities and are looking forward to the exchange with you. The following links can therefore help you:

Request adhook demo
adhook for insurances
adhook for automotive companies
adhook for franchise companies