The start with adhook.io | Ultimate Guide
Are you new to adhook.io or would you like to find out how to get started with us? Then you are exactly right here! Find out in this guide how to get started with adhook and how you can use digital ads to achieve your marketing goals.
1. Introduction
With adhook you get the All-in-One Ads Tool for the online advertising of your company. You create comprehensive campaigns in the shortest possible time and carry out adjustments and optimizations in the shortest possible time, without having to switch between different ad platforms to must. Supported advertising networks:
Google Ads (Search, Display, Shopping)
Facebook Ads (Facebook, Instagram)
LinkedIn Ads
Twitter Ads
During the free test phase you can convince yourself of the advantages of creating digital ads with adhook for 7 days without obligation. Please register on the following page:
https://calendly.com/adhook/demo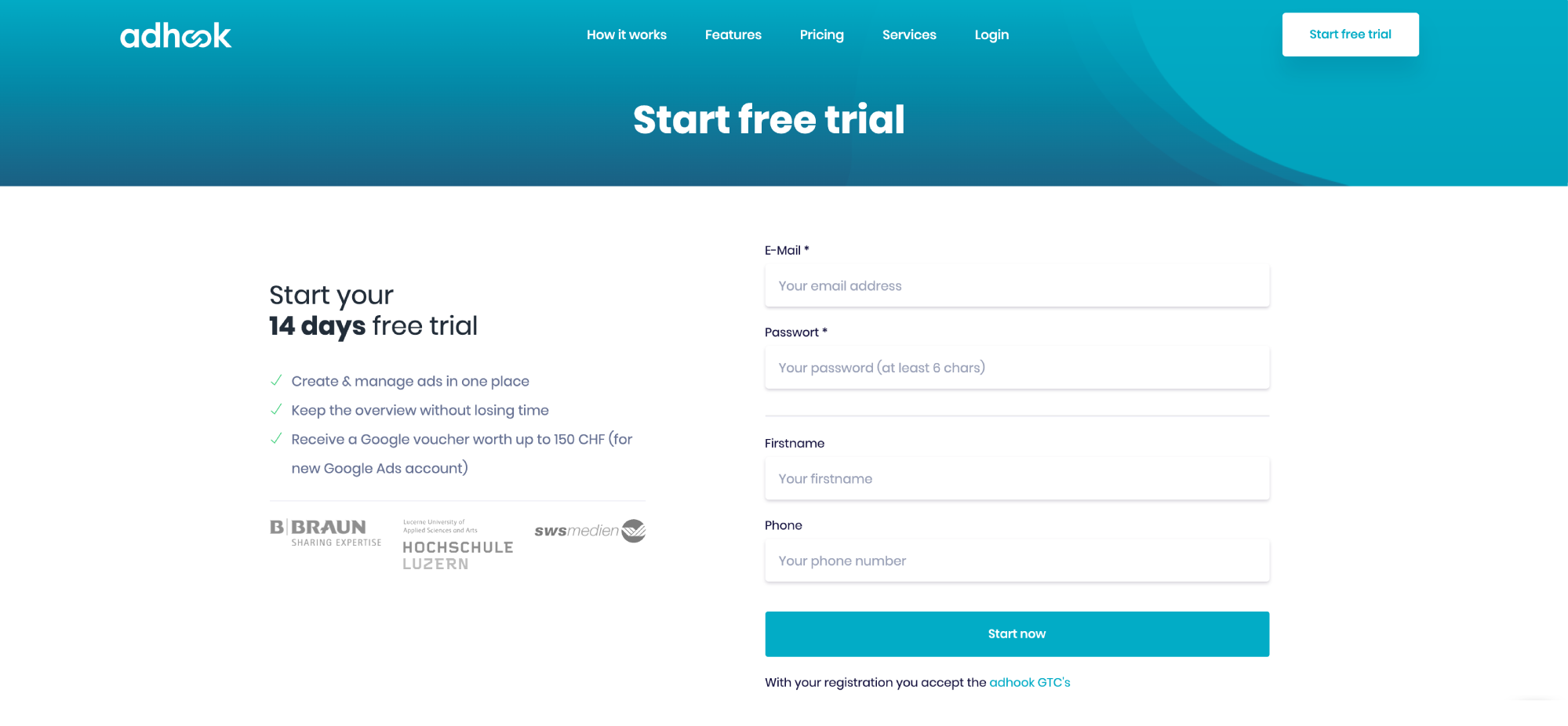 Link or create advertising accounts
Link existing advertising accounts
Have you ever created digital ads on Google or social media? Then you have in one or more advertising networks an account (e.g. for Google Ads or at Facebook). You can link them with adhook after registration. With the link you allow us to use your advertising accounts to manage campaigns. You can use the Remove the link at any time.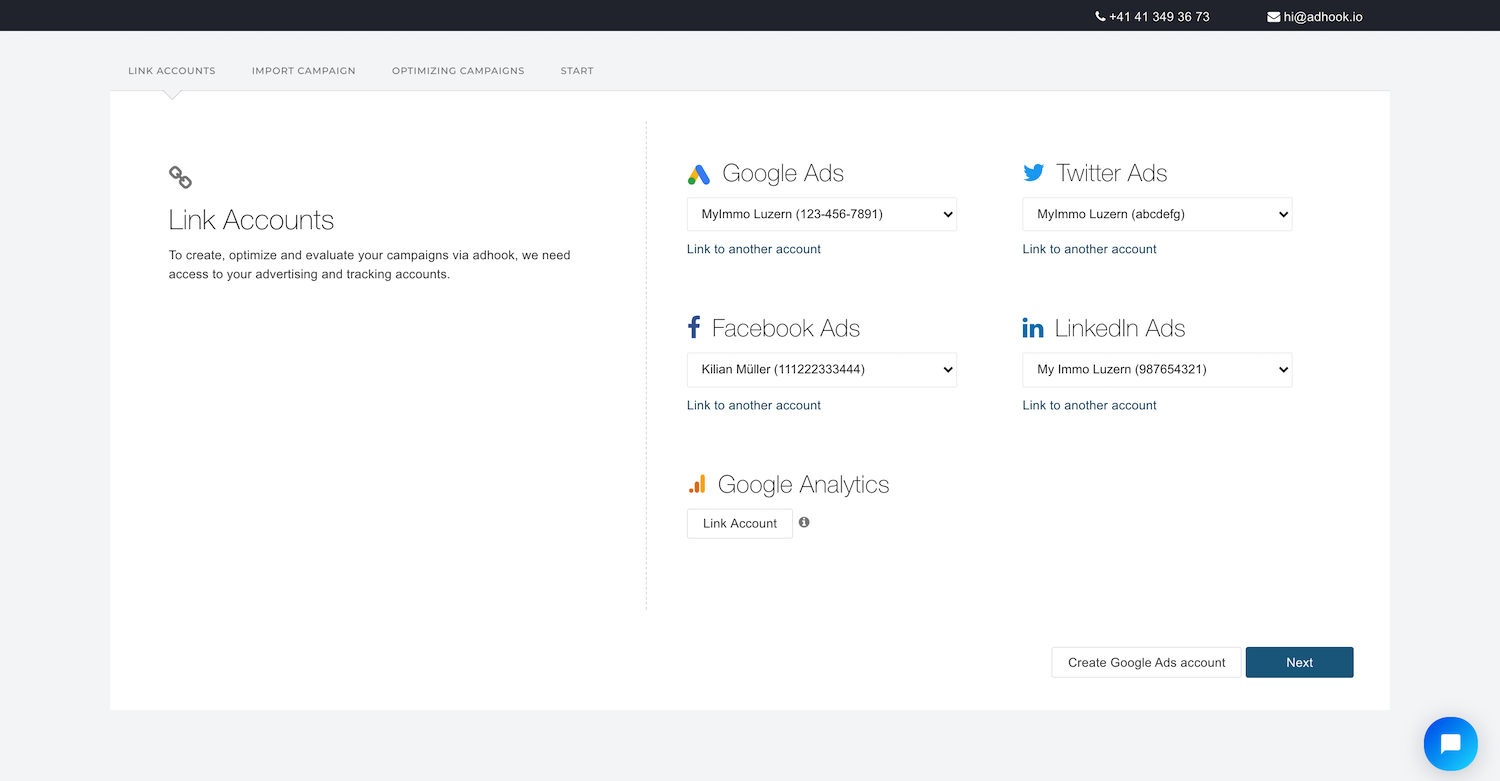 Create a new Google Ads advertising account
Don't you have advertising accounts yet? You can create a new Google Ads account with one click in create adhook! Choose "Create new adhook account" and then click on Google Ads "Create new account". You can use the new account immediately, for the completion facility, one of us will be in touch with you shortly.

Import campaigns
If you have linked existing advertising accounts, you can import your existing active campaigns from all linked advertising channels in the next step. This way you keep track of all current activities and adhook can support you in optimizing your existing campaigns.

Hint: Select "Import active campaigns automatically". This will automatically import newly created campaigns in your advertising accounts to adhook.
Optimize campaigns
With adhook your campaigns are automatically optimized according to rules. Some of these rules have been created for you by default. Select the ones you want to activate and apply it to your campaigns. After onboarding, you can customize all rules individually and create new rules (see chapter "Automatic rules").

At the end of the onboarding you can start directly with the creation of a campaign. With the chat based campaign creation you answer some questions about your campaign plans. From the answers, adhook creates a proposal for your campaign, which you can check in all details before activating it.
The campaign proposal consists of the following parts depending on your answers:
Generation of Google Ads ad groups
Generation of Facebook interests
Generation of LinkedIn target audience Criteria
Generation of Twitter target audience Criteria
Creation of a dynamic Google Ads ad group
Creation of dynamic Google Ads search ads (DSA)
Creation of advanced Google Ads search ads
Creation of responsive Google Ads search ads (RSA)
Creation of Facebook and Instagram ads
Creation of LinkedIn picture displays
Creation of Twitter picture ads
Proposal for budget & duration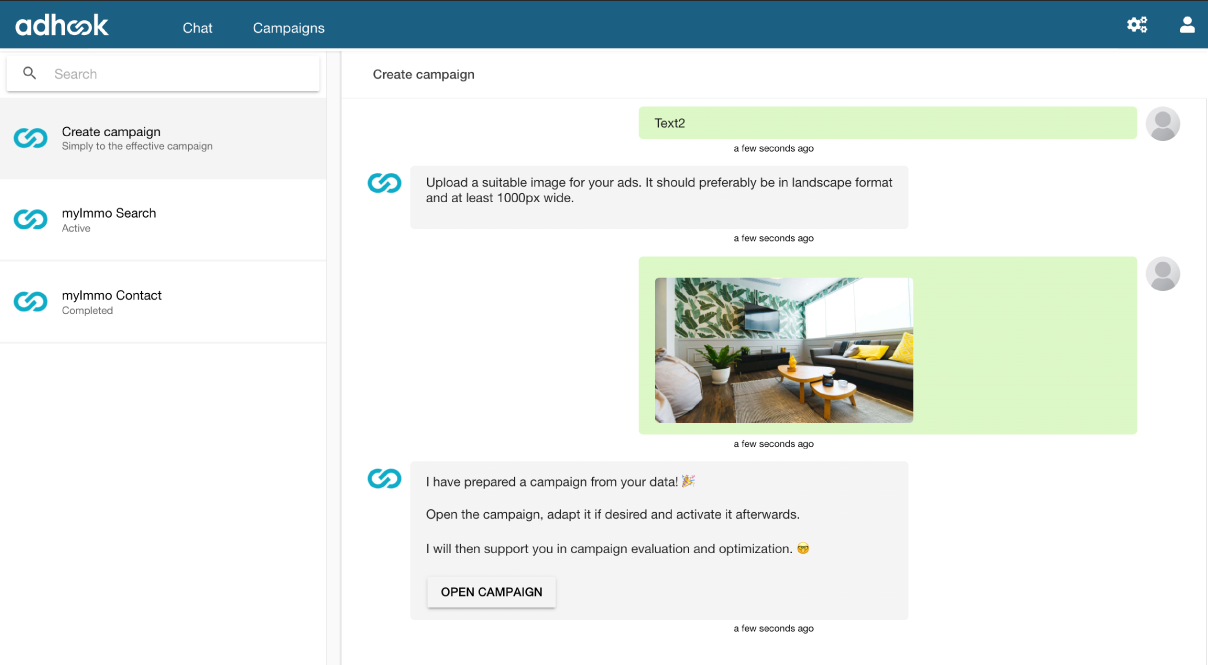 When you create a campaign after onboarding in adhook, you can choose how you want to create the campaigns. You can either use the chat based creation described in the previous chapter or you can use the advanced campaign creation. This is especially suitable for people who already have experience with digital ads.
The following chapters show you step by step what you should pay attention to when creating advanced campaigns in adhook and give you tips about target audiences, ads & Co.
Advertising target
To start, choose a suitable name for your campaign and the link to your website that you want to promote. The following options are available to you as an advertising target:
Visitors – Lead more people to your website.
Engagement – Increase interaction with your content.
Reach – Increase the range of your content.
Followers – Get more Likes on your social media profiles.
Video views – Increase the range of your videos.
Conversions – Encourage people to perform certain actions on your website.
Retargeting – Place ads for people who have visited your website.
Calls – Get more calls for your business.
Shopping – Market products from your online shop.

Hint: In most cases, the target "Visitor" is suitable for the start in order to make people aware of the offers/services on your website.
Advertising accounts
Select the advertising accounts you want to use in the campaign.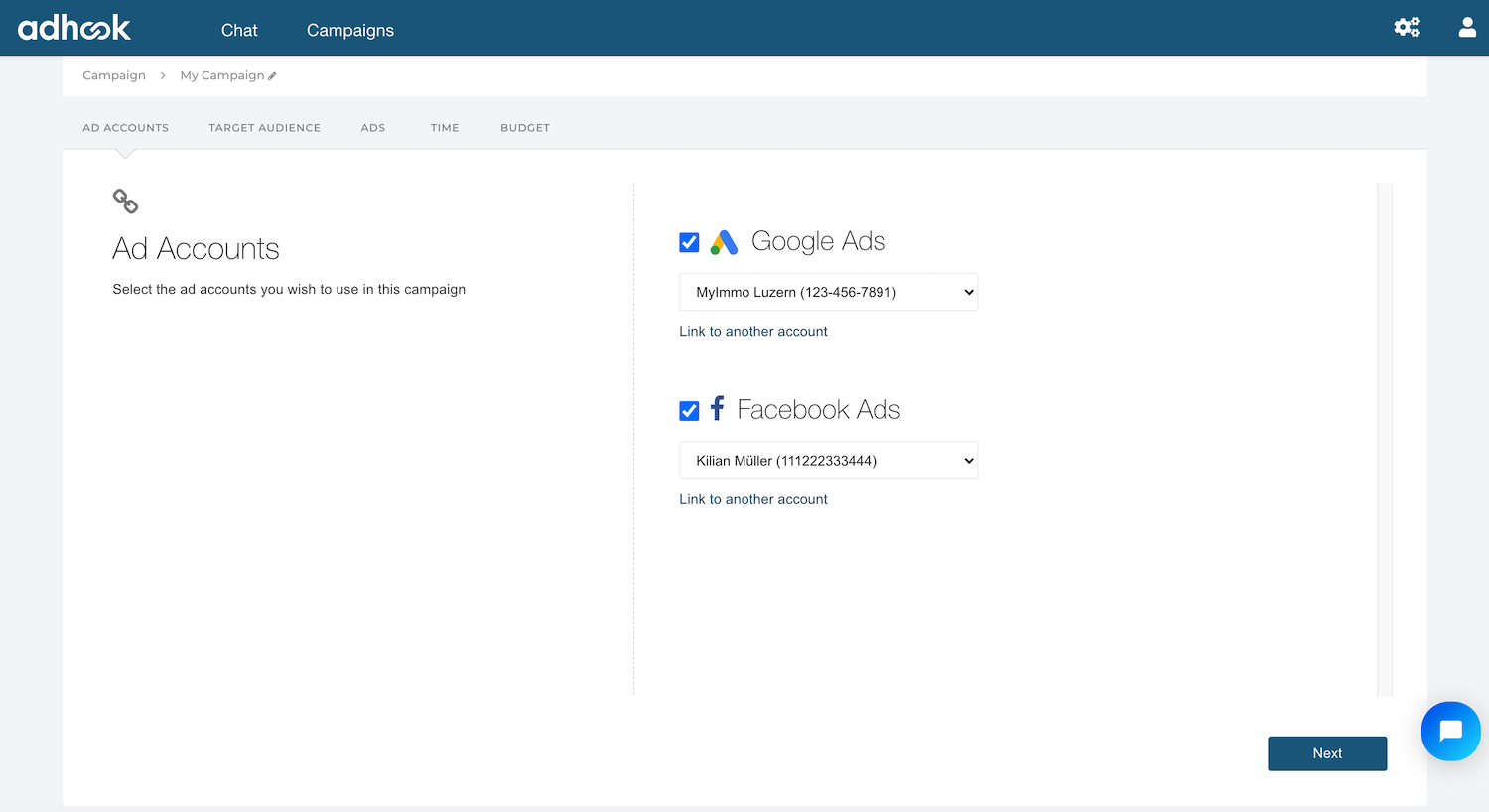 Hint:Select here the accounts of all advertising networks that are relevant for your target audience (e.g. Google Ads & Facebook Ads) You can see later in the results which ad network works how well and make changes at any time.
Target group
This step of campaign creation is about who you want to show your ads to in the selected ad networks.
Hint: Do not choose your target audience too broadly to avoid wastage. Think about who might be interested in your products or services and who might not. On the right side you will see the range of the selected criteria is displayed.
Target regions
You can select several target regions and define them separately for the selected advertising networks (e.g. Switzerland for LinkedIn and Lucerne for Google).
You can also exclude target regions from your target audience. For example, would you like to include the whole of Switzerland without Lucerne? Then select Switzerland as your target region and then click on "Exclude target regions". Select "Lucerne" with a corresponding radius in which this campaign should not be played.
Google Keywords
In Google Search you will meet people who are actively looking for something to which you can offer solutions with your products and services. Therefore choose keywords for your ads that are relevant for your business. A start with 5-10 keywords is often enough, you can add them at any time. In addition, adhook helps you with the ongoing evaluation and optimization of the keywords.
Keyword Options
The keyword option defines when exactly your ad is played for a Google keyword. Here it is important to distinguish between keywords and search queries. Keywords are defined in your target audience, search queries are effectively queries entered into Google, for which your keywords can be triggered.
Depending on the settings, your keyword must be entered exactly as you defined it, additional words may be included in the search query or it may be sufficient if the search query is largely matching your keyword (e.g. synonyms or related
When adding a keyword in adhook, we use the extensive matching keyword option with a so-called modifier ("+" sign in front of each word). With the modifier, every word with the "+" sign must be included in the Google search query for your ad to be played. The search query can also contain additional words. If you edit a keyword or add it via "Advanced", you can customize the keyword option you want.
Exclude Keywords
With keywords to exclude you can better align your ads by not showing them for certain words. Click on "Exclude Google criteria" and select the keywords you want to exclude.
Example: Exclude the keyword "cheap" so that your keyword "rent a house" does not appear under "rent a house cheap".
Ad groups
You can divide your keywords into so-called ad groups. For example, create a group for each area of your services or offers. In each ad group, you then add between 5-10 keywords that match the respective group. To add a keyword to a new ad group, select "Advanced" at the keyword suggestion. In the dialog you can then select the desired ad group or create a new one.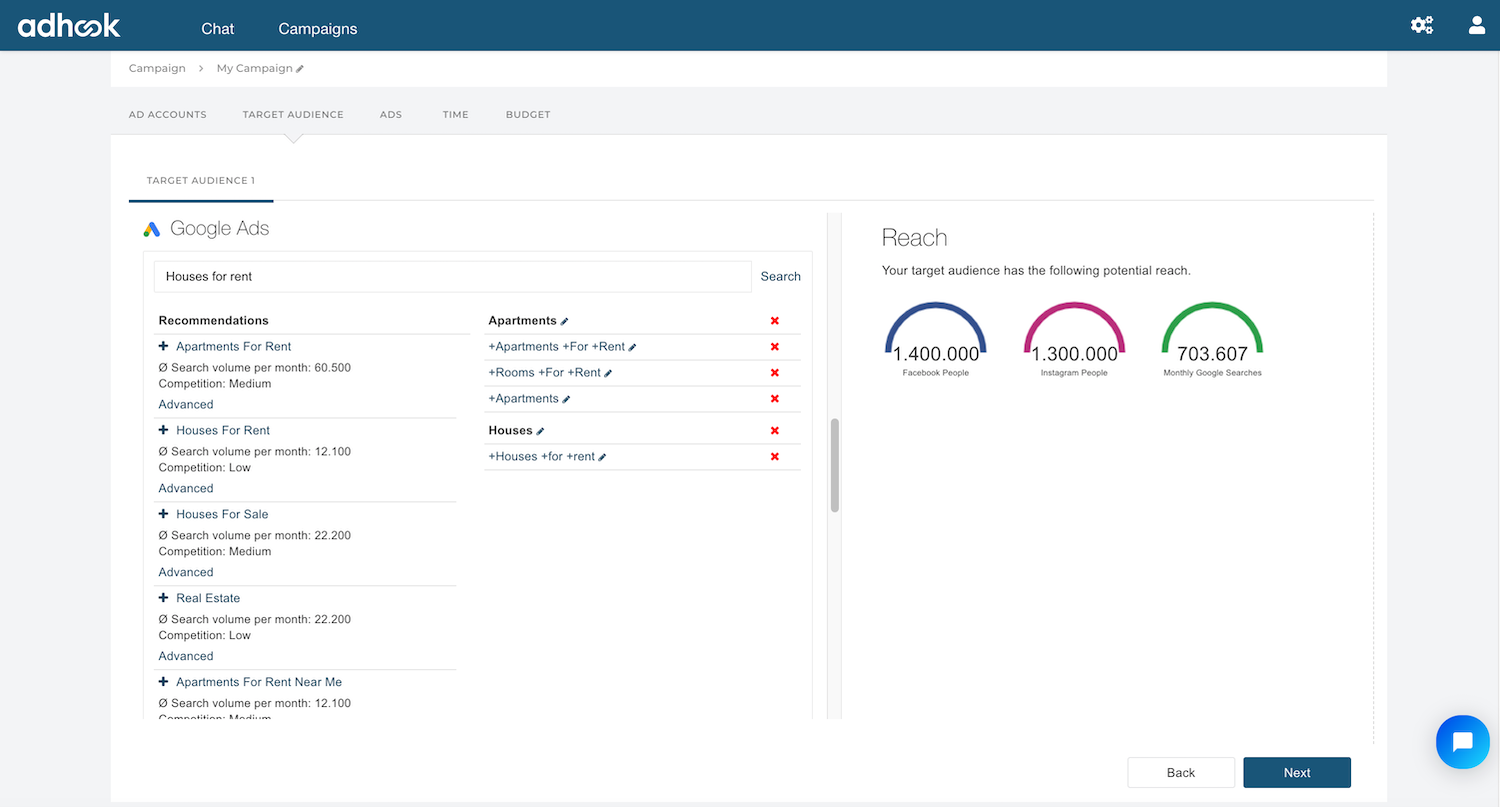 Hint: Structure the ad groups according to the structure of your website.
Social Media Criterias
In social media you meet so-called passive seekers. This means that you can present ads to people who, based on their profile, fit well with your company. Social media channels offer a wide selection of target audience criteria. On Facebook, for example, you can limit your search according to interests, demographic data or behaviour. You can also exclude criteria here to better target your audience.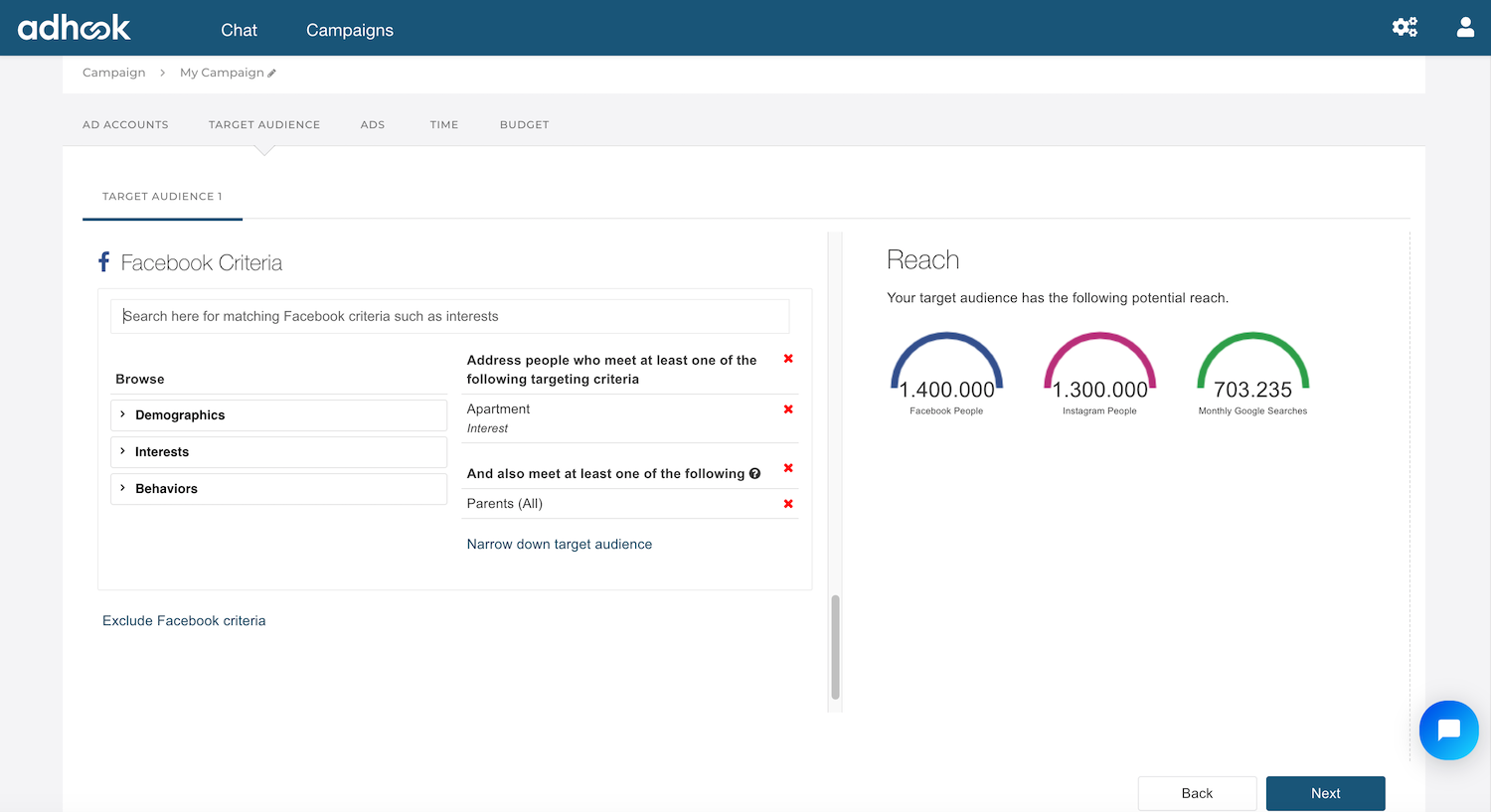 Hint: Try to limit the number of people relevant to you as much as possible to avoid wastage. Therefore, choose rather less criteria that fit your target audience.
Facebook Hint:Example: You want to sell accessories for dog owners. Create a group with interests around 'dogs' and a group with interests in 'dog training'. This will increase the chance that the person is actually a dog owner, as they are interested in both dogs and dog training.
Ads
In the step "Ads" you create the ads that will be presented to the selected target audience. Text, images, carousels and video formats are available. For your first campaign it is recommended to start with a text ad for Google Ads and a picture or carousel ad for social media.
Text Ads
The text ads are intended for Google search. Create here for each ad group a text ad with the following modules:
Name: By the internal name you will recognize your ad later in the evaluations and in the adhook chat.
3-5 Titles: The titles are separated from each other in the Google search with a "|". separated. Highlight your unique selling point in the title and include important keywords you have chosen
2-4 Text blocks: Good ad copy is crucial to whether and how many users visit your website. Therefore, highlight your advertising campaign or exclusive offers in the text and encourage the searchers to take action.
Link: The link to the target page when the ad is clicked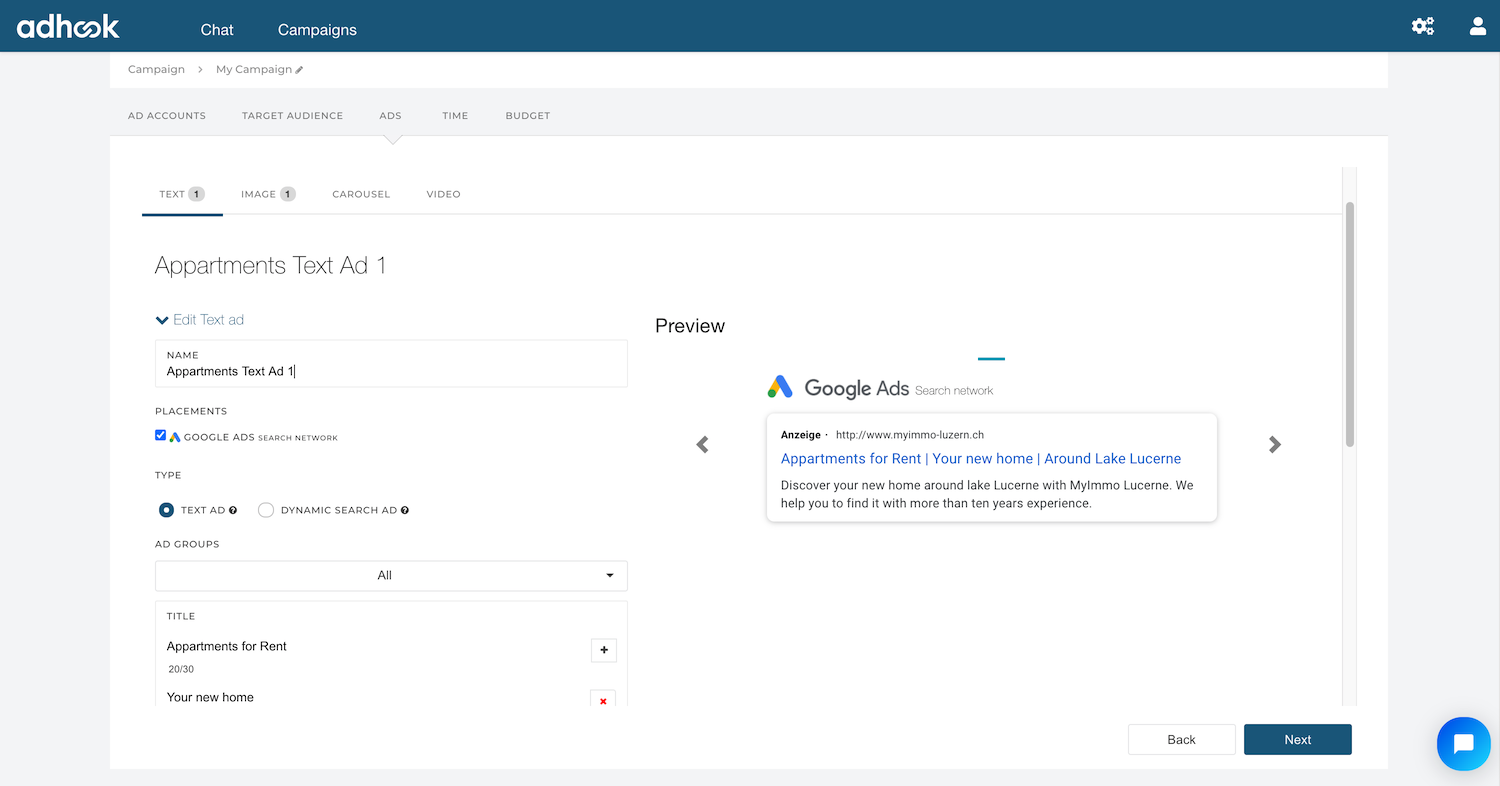 Image ads
The image ad is the classic format for social media channels. It allows you to present your advertising message in combination with a picture to your target audience. Define the following building blocks for your image ad:
Name: By the internal name you will recognize your ad later in the evaluations and in the adhook chat.
Placements: You can send your ad within the advertising networks to in different places. The placements recommended by adhook are already selected.
Facebook Site: Choose the Facebook page you use for your ads want to. This will also be used for your Instagram ads unless you have a separate Instagram account associated with your Facebook page.
Title: Highlight your unique selling point in the title. Via "+" you can add further title variants.
Text: Highlight your advertising campaign or exclusive offers in the text and ask the people in your target audience to take action. Via "+" you can add further text variants.
Link: The link to the target page when the ad is clicked.
Call to Action: The image ad often contains a button which also leads to the target page you have specified. Here you can select the text of this "Call to Action" button.
Image: Upload at least one matching image to your ad. After nUploading you can crop the image crossways, square or vertically. You can also use multiple images. In the campaign results, you will later find out which image works how well.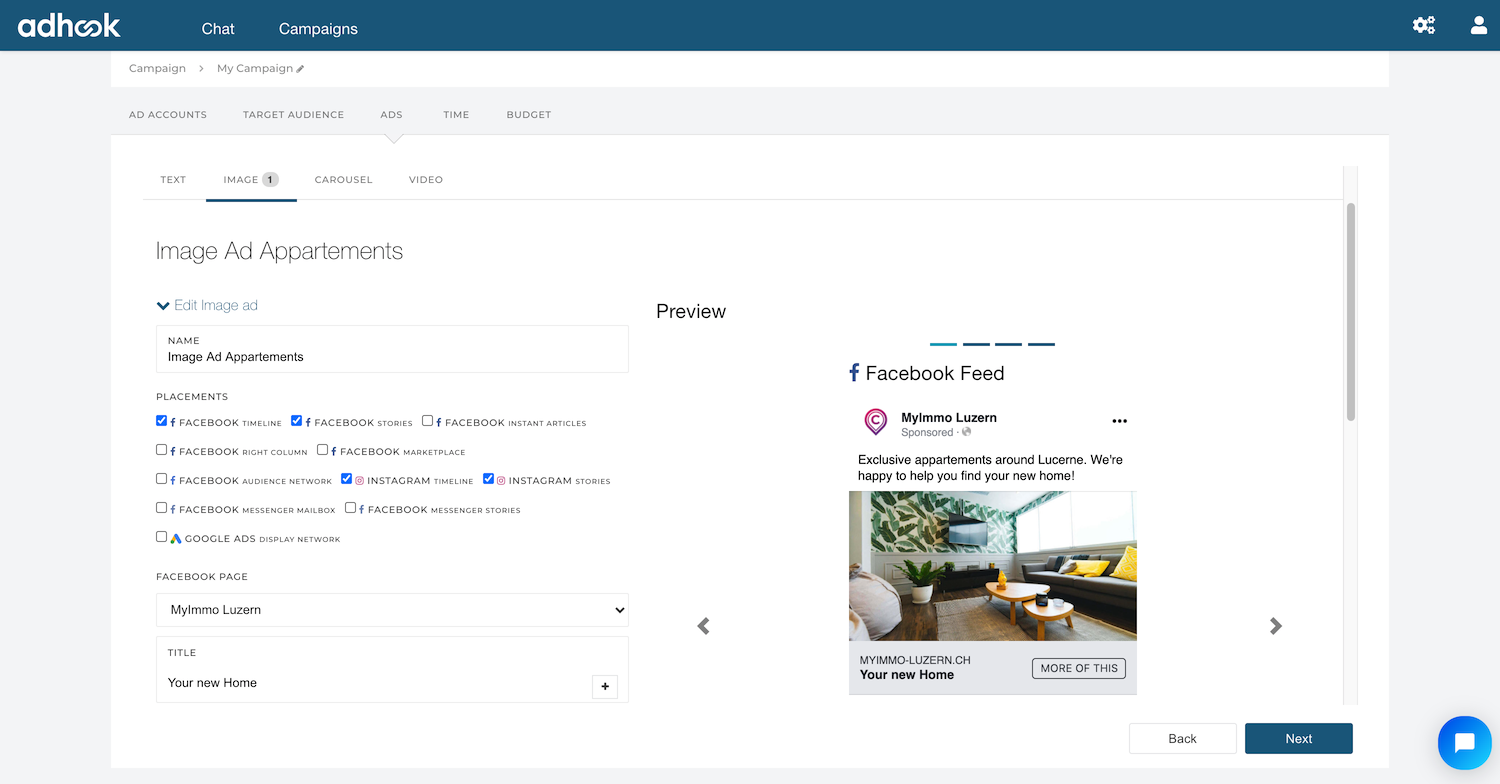 Duration
Now determine when your ads should be displayed. You can limit the duration of your campaign to a fixed time or start the campaign on a daily basis without a fixed end date
Hint: Beschränke die Laufzeit deiner Kampagne nur, falls es sich um ein zeitlich begrenztes Angebot, einen Event oder um den Push eines organischen Social Media Posts handelt. In den meisten Fällen bist Du mit tagesbasierten Kampagnen flexibler.

Budget
What do you want to invest in this campaign? Your defined advertising budget flows directly into your advertising accounts and is distributed evenly over the selected placements. The recommended budget will be calculated and displayed as a proposal by adhook.
Bids
The advertising network, such as Google Ads or Facebook Ads, decides which ad is placed and when, using the auction principle. At each auction, it is decided which ad will be placed in exactly this advertising space at that moment. With your bid you take part in the auction.
Depending on your advertising goal, you can use different bidding strategies that support your goal. In adhook, the bidding strategy of the selected ad networks is automatically stored based on the target you selected in the campaign creation. You can adjust this in the budget step by clicking on "Bidding strategy" on Google Ads, for example.
Accounting
Depending on the selected target, the costs are invoiced per click (CPC) or per 1,000 impressions (CPM). The effective price is based on various factors such as
Hint: Define a monthly advertising budget for your campaigns. With the defined budget you can plan your ads and optimize the results continuously.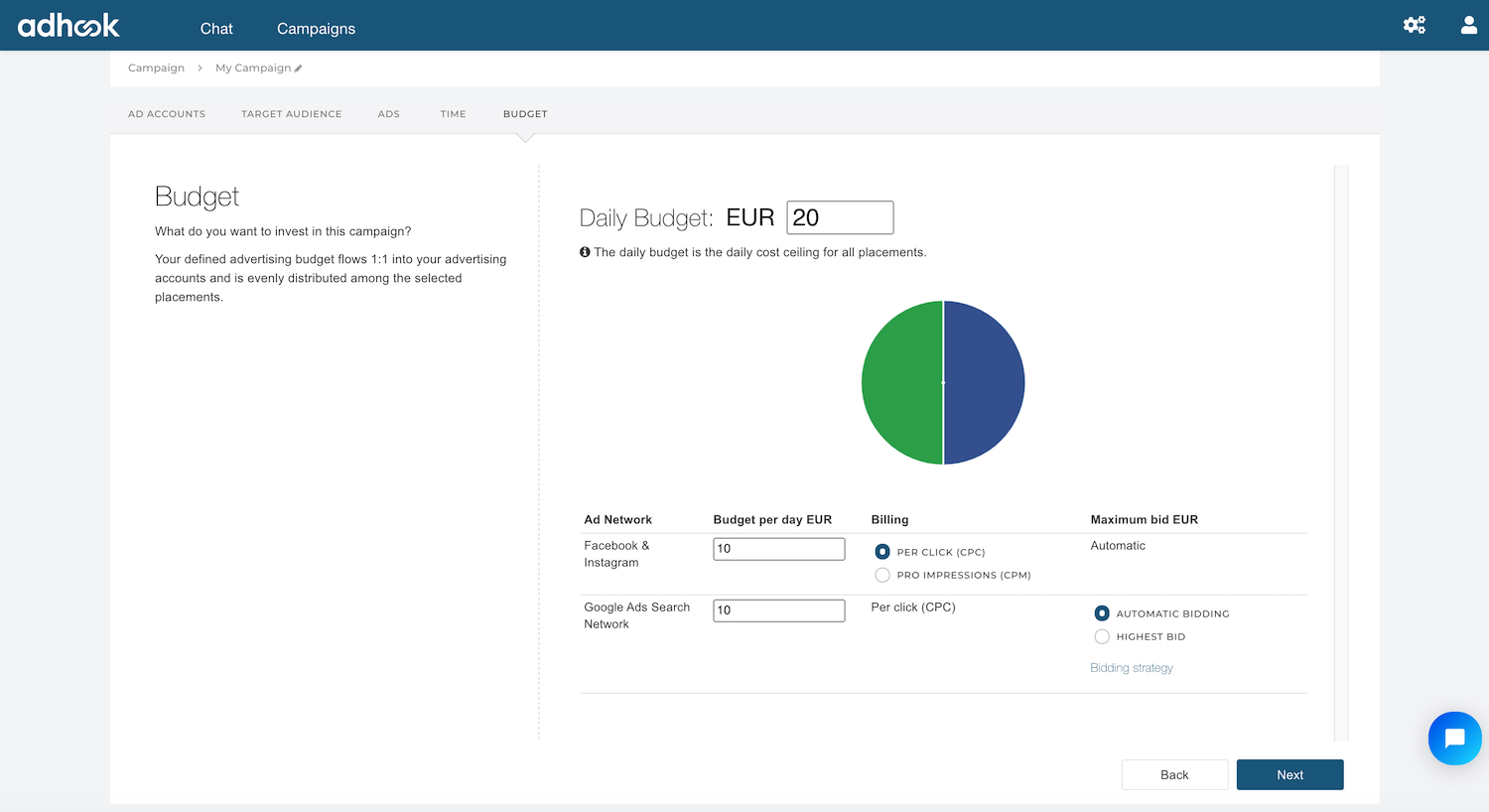 Activate campaign
When you activate the campaign, all data will be transferred to your advertising accounts. As soon as the campaign starts, you will be regularly informed about the results, suggestions for improvement and optimizations via e-mail..
Home
As soon as you have active campaigns in adhook, you can get an overview of the current results on start.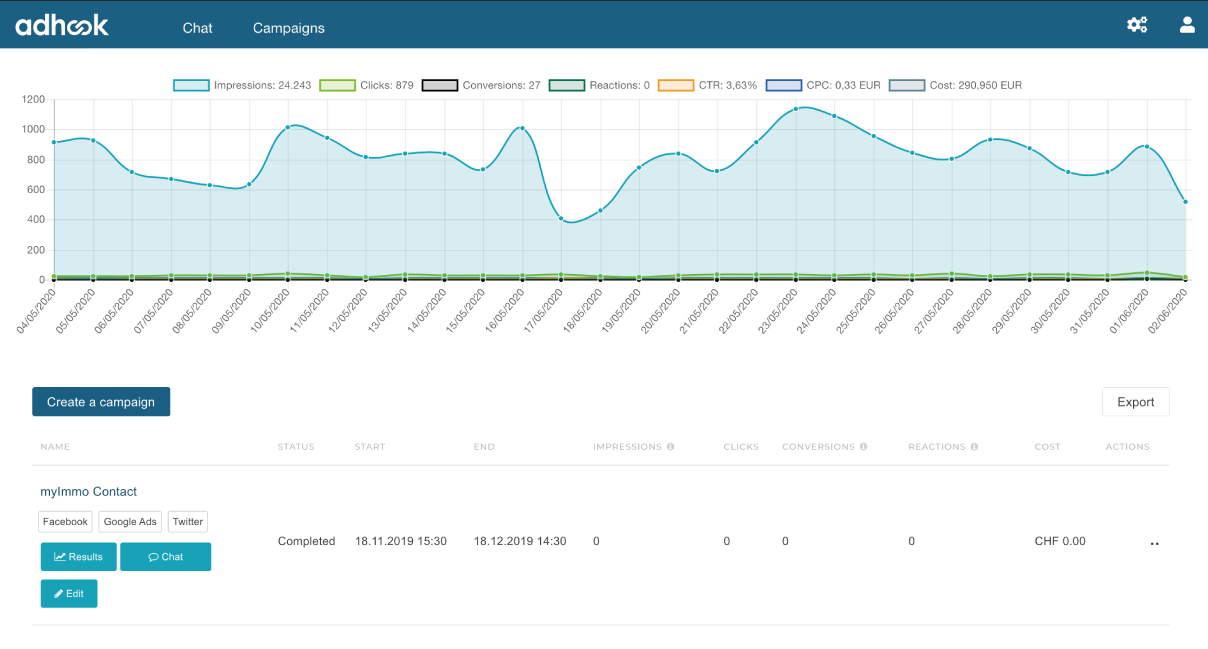 Hint: By default the results of the last 30 days are displayed. In the upper right corner you can limit the time, e.g. to see only the results of the previous day.
Hint: You can deactivate individual metrics in the chart so that the scale adjusts and you can see the other metrics better over time. For example, click on "Impressions" to deactivate this metric.
Campaign results
For each campaign you can view the results in detail by clicking on the "Results" button on the start page for a campaign. The results are divided into the following sections.
Advertising networks
Placements (within the advertising networks)
Target groups
Ad groups (Google)
Texts
Media
Keywords (Google)
Search requests (Google)
Ads
In the individual areas you can make direct adjustments (e.g. edit keywords or ads).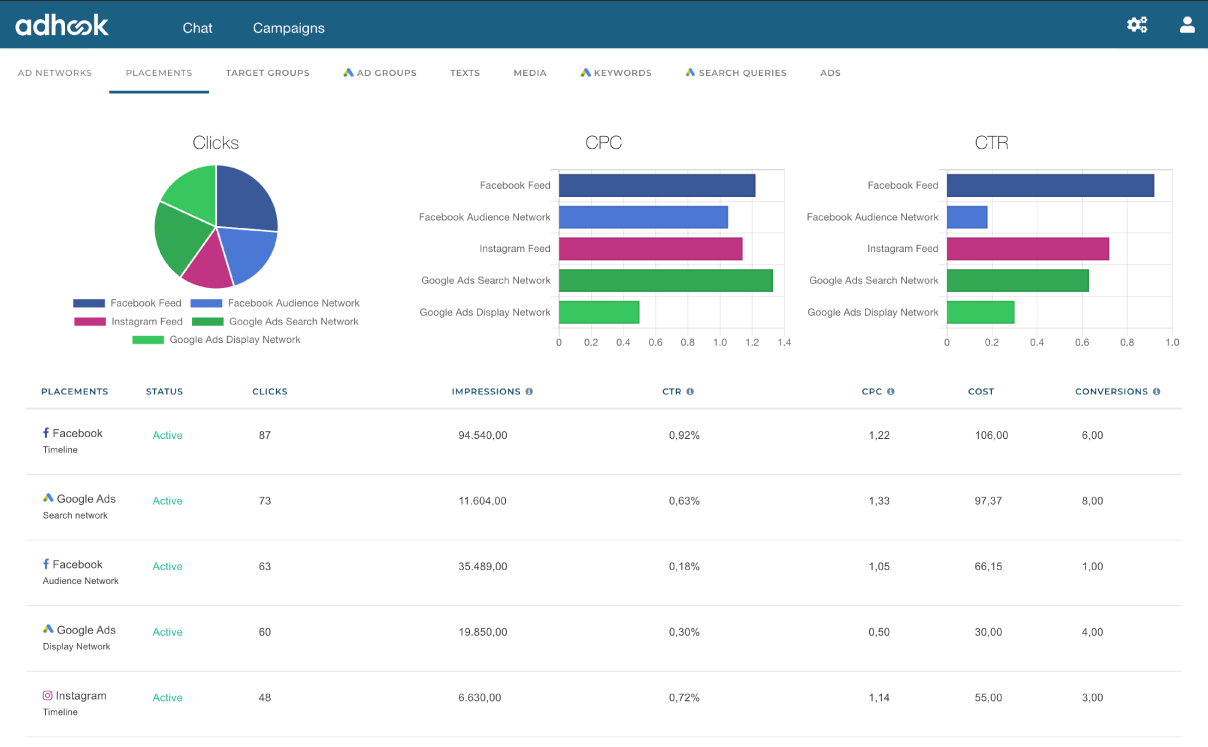 Notifications
adhook evaluates your campaign daily and sends you important results as messages in the campaign chat. You will be notified by email about new messages for all your active campaigns. In the chat you can further analyze important results. Examples:
Summarised results per campaign
Results of the campaign per advertising network
Results of Google Ads keywords
Results of triggered Google Ads search queries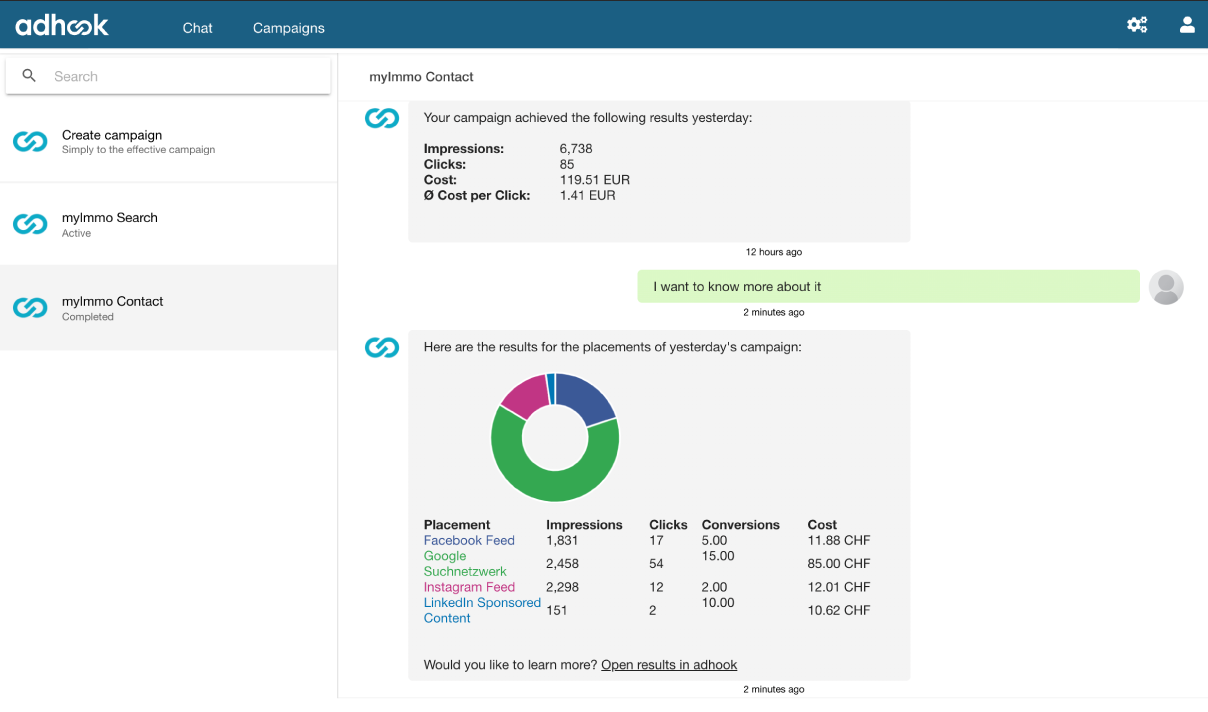 Hint: In the settings (top right of the gear wheel) you can define whether your campaigns should be checked daily, every 3 days or weekly.
Google Analytics Integration
In order that your ads can also be further evaluated in Google Analytics, adhook automatically generates so-called UTM parameters to your landing page link. This enables you to see in Google Analytics which session on your website comes from which campaign and which ad. The following metrics are automatically read from your Google Analytics account by adhook and integrated into your statistics.
Number of sessions
Average session duration
Bounce rate
Excel Export
On the start page, you can export to Excel via the "Export" button. All campaigns shown on the start page and the results of the selected time period will be exported.
Approval of campaign results
Would you like to share the results of a campaign with someone else? Create a link from your campaign results in the campaign results by clicking the arrow icon in the upper right corner of the campaign name. In the dialog shown you can generate a link to share the campaign results.
When someone clicks on your link, they will have access to the results of the campaign from which you generated the link. No changes can be made to the campaign or other results can be viewed.
Important metrics
In adhook we use different metrics for the campaign results. Here you will find an explanation of the most important ones.
Impressions
An impression is a display of your ad to the selected target audience.
Reach
Reach is the number of people who see your campaign or ad.
Clicks
A click on your ad, which can be a click on the link to the target page, the call-to-action button, your social media page, Likes or similar.
Cost per click (CPC)
The average cost incurred for one click (e.g. in a channel in the selected period)
Click-through-Rate (CTR)
The ratio between impressions and clicks as a percentage. The higher the CTR, the better the selected target audience matches the defined ads. However, a good percentage varies according to channel and industry.Adhook makes you aware of good as well as problematic CTRs in your campaigns and helps you to optimize them.
Conversions
Valuable actions for your company are called conversions. A conversion can be, for example, subscribing to a newsletter, downloading an app or buying a product. If you have set up conversion tracking, you can see in the campaign results how many conversions each channel and ad has generated.
Notifications
You will continuously receive suggestions for improvement based on your data, which you can execute directly in the campaign chat in adhook. This way adhook supports you in your daily campaign work in order to achieve better results as efficiently as possible. Examples:
Comparison of ads with very different performance and recommendation to pause the below average ad.
Check Google Ads search queries with direct exclusion if you don't want to appear further down the search query.
Adding new Google Ads keyword suggestions, which are selected based on well-functioning keywords.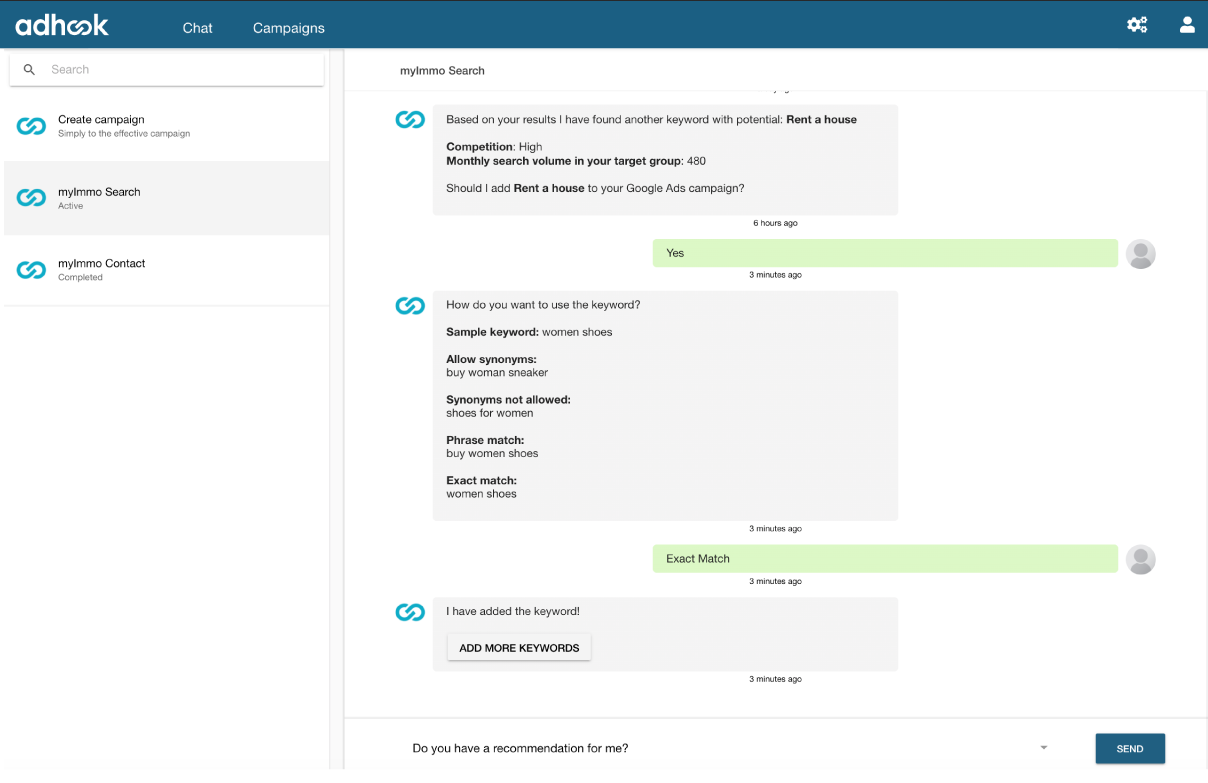 Automatic rules
With adhook's automatic rules, you can create flexible and powerful optimization rules with simple IF/THEN logic. You can define the rules with multiple conditions and metrics such as click-through rate, cost-per-click or cost-per-conversion. You will be notified about every optimization carried out. Examples:
Pause ads with below average click-through rates
Pause ads with above average click prices
Badly performing Google Ads keywords pause
Pause ad groups with below average cost per conversion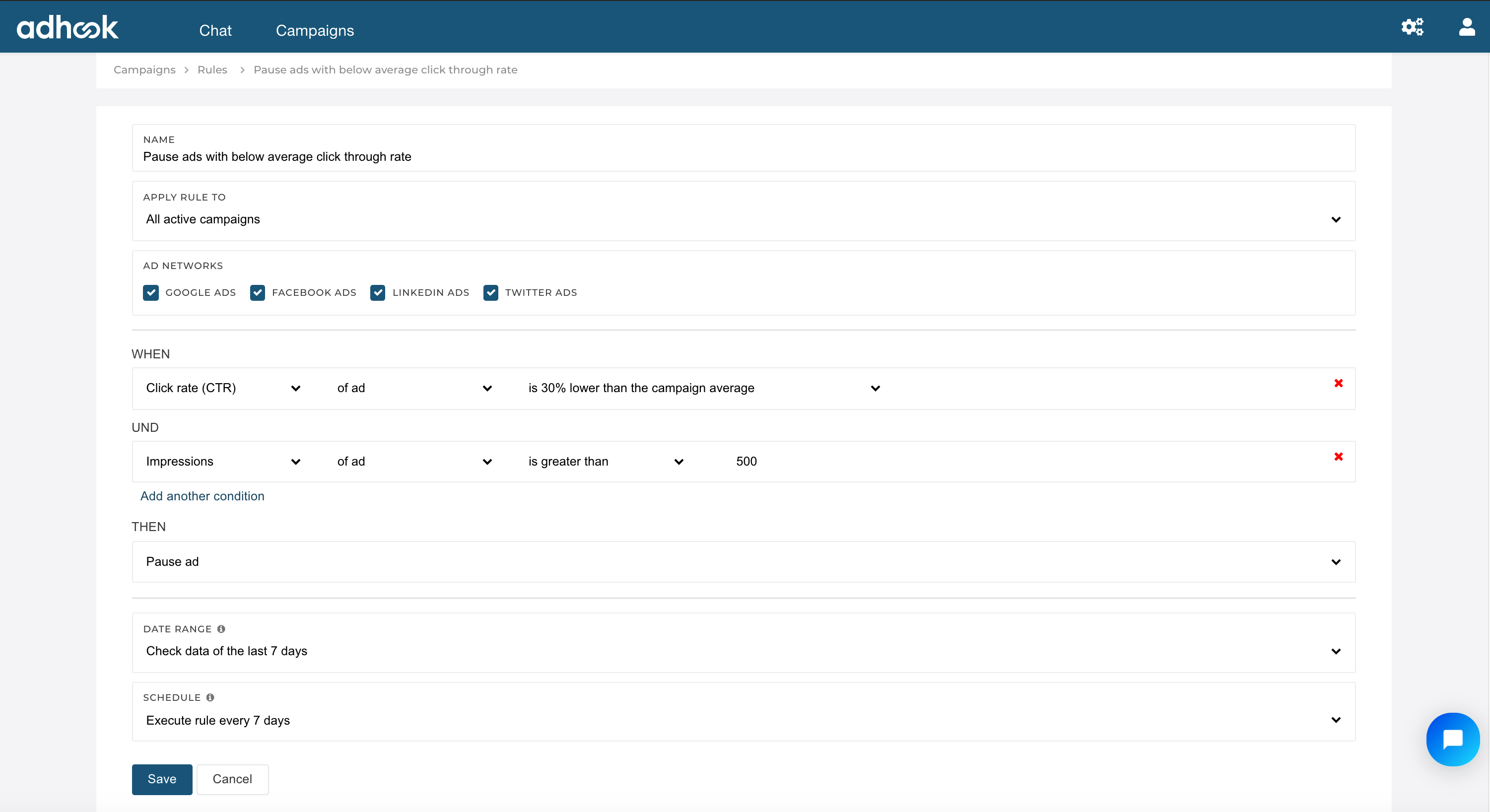 To optimize your campaigns for the conversions described above, we recommend integrating conversion tracking on your website. In the following guide, we have described how you can create conversions for the various advertising networks and integrate them on your website.
https://www.adhook.io/en/blog/digital%20advertising/conversion-tracking-mit-dem-google-tag-manager/
Once you set up conversion tracking, you can create campaigns with the goal of "conversions" and have your campaigns optimized to maximize your conversion numbers. Need help setting up Conversion Tracking? Within the scope of our marketing services, we are very happy to help you (see chapter "12 Marketing Services").
Do you want to save specific target audiences or ads so that you can have them immediately available for future campaigns? Create templates of your target audiences and ads in adhook, which you can select when creating campaigns. You can find the templates in adhook in the upper right corner of the gear wheel under "Templates".
Create social media ads campaigns in adhook that push one or more existing social media posts. Choose the target "Engagement", "Reach" or "Followers" in the advanced campaign creation. In the step "Ads" you now have the possibility to select one or more organic posts from your social media accounts.
The following functions are especially exciting for marketing teams. We would be happy to activate them for you during the test phase. Please contact us via +41 41 349 36 73 or hi@adhook.io.
Check & release campaigns
With adhook you can easily give your created campaign to another person from your team for review before the campaign is started. The process of reviewing the ads can be customized to the needs of your company.
Grouping campaigns
Do you work on campaigns for different departments, customers or products? Group them into adhook so you can perform cross-channel analysis more efficiently.
Collaboration
adhook's distributed campaign management allows you to use digital ads outside your marketing team without losing control of the ads being played. This allows for a broad use of digital ads in your company without having to invest time in repetitive tasks. Here's how it works:
You define predefined building blocks such as target audiences, ads or budgets, which can be used by people outside your marketing team.
A new campaign is created and submitted in adhook by a person outside your marketing team.
Once a campaign is submitted, it goes through manual review by your marketing team according to the defined individual process. You can return the campaign with feedback or you can customize the campaign yourself.
As soon as everything fits, you can release the campaign and thus transfer the data to the stored advertising accounts.
adhook continuously informs about results and optimizations via notifications. Furthermore, all involved persons have access to the evaluations in adhook in order to be informed about the status of the campaign at any time.
Within the scope of our Marketing Services we are personally at your disposal to support your advertising activities.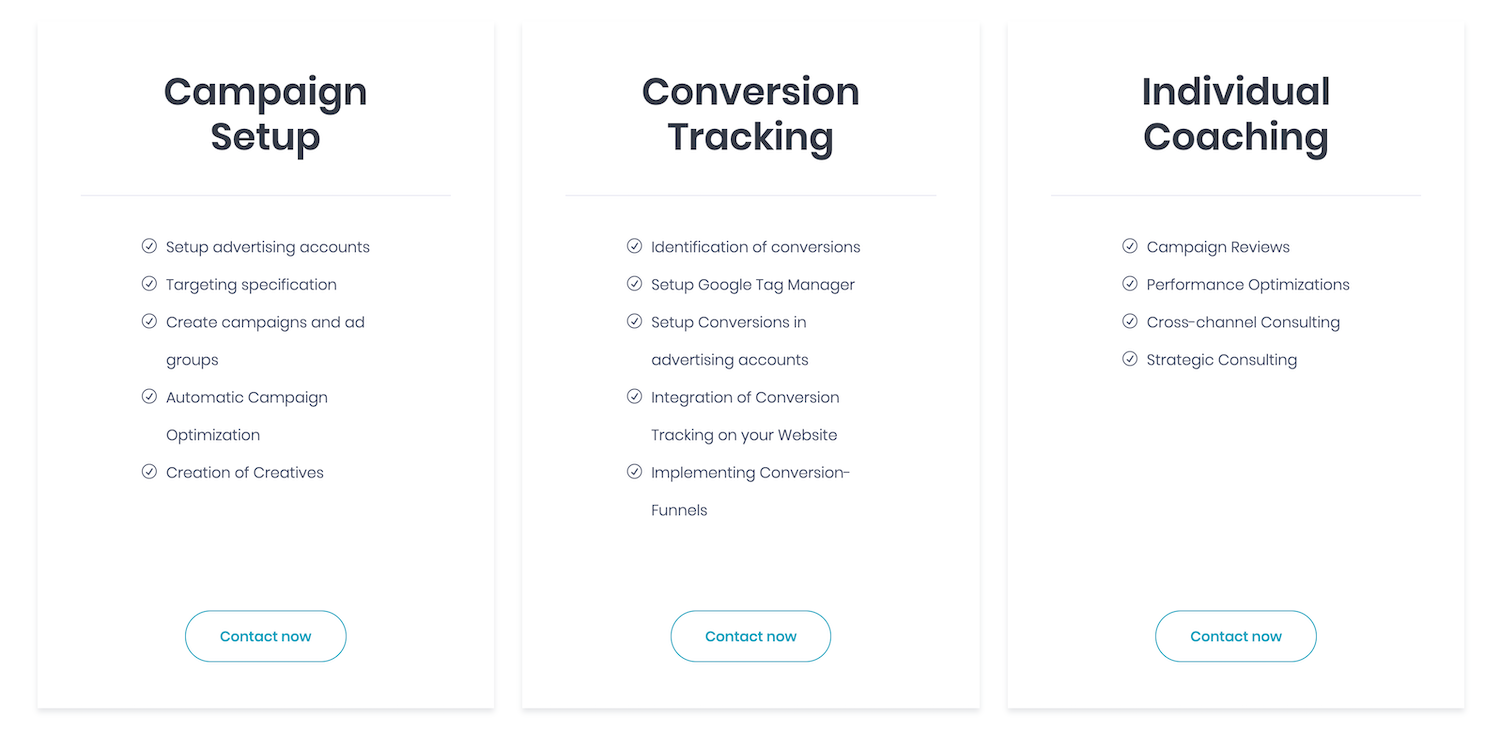 If you have any questions please do not hesitate to contact us! You can contact us via +41 41 349 36 73 or hi@adhook.io